Grenadines, a small Caribbean paradise
This wonderful archipelago consists of 30 larger paradise islands. Mustique, Bequia and Tobago Quays are other known neighboring islands.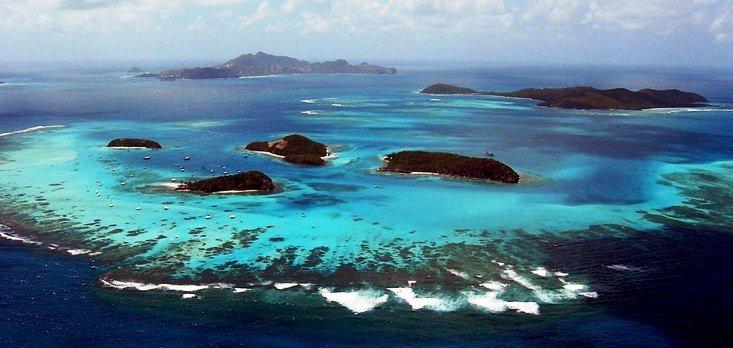 It is not the easiest way to get to the Grenadines. You can fly to Barbados  and later onward to Union Island which has the islands airport. From Europe, it is also possible to fly to St Vincent and a change of flights to these beautiful islands. There are many who say that this is the genuine Caribbean, wonderful turquoise waters, palm trees and white-sand beaches.
The small airport on Union Island is more or less a barrack which operate as arrivals and departure hall. From the airport, it is not far to go to get down to the harbor, where sailboats, catamarans and transport ferries docks. Normally  visitoris come for the day, landing in the morning, sail away on a yacht or a catamaran, enjoying a day at sea. We have tried both ways of sailing and if you are looking for peace and quiet, a little more flair, you shall select a yacht. These takes max 5 to 6 persons at the same time.
After a shorter sailing we' arrive at Palm Island. During this first trip they usually serves breakfast and cold drinks. The water around the island is great! Clearer water is hard to find, it has a wonderful turquoise/blue color. On Palm Island there is also a hotel, after a day in this area you  might want to spend your next holidays in this hotel?
Should you choose to go on a catamaran, remember the boats are bigger and therefor it will be more guests on board, there is a bar, toilets, sun deck to lie on and a bit of music is playing from the speakers. A lot rent a private boat and sails around in the archipelago. There are many islands to choose from, and a nice thing about the  islands in the Grenadines is that there are also really small ones, 15 meters in diameter, and just have one or two palm trees on them.
During the day a stop or two is made on the small islands, anchor at a coral reef for snorkeling and swimming. Then a good lunch is served. On the catamaran it is usually a lovely buffet with a lot of delicious dishes to choose from. On the smaller yachts it is more of an a la carte-feel to it. All boats serves soft drinks, beers, wines and mixed drinks.
This will be a day to remember! This archipelago is superb and the water is warm and wonderful. Everything is quiet and peaceful, warm winds caressing your face during the sail and views are breathtaking.
It can also be exciting when leaving Union Island, the airport has no lights on the runway, which means that all flights must depart before the sunset ( at least at the two visists we have done) andif the flight departs late from another island it can be quite nerve wrecking
Islands in the vicinity as Bequia, Mustique, St Vicent offers several hotels and guest houses, restaurants and bars. The nature of these islands is wonderful, lush and green. Most of the islands in the area are volcanic islands, except Barbados which is a flatter atoll. Not far away is Grenada, a very populare island for holiday makers.