Rent a speed boat in Lefkas, Greece
What about a day at sea, with a private skipper taking you round the stunning waters of the Ionian Sea?

We met with our captain, Nicos, early in the morning at the harbour of Sport Boat Charter, and we sailed away in one of the many comfortable motor boats. They are of the latest model and have the latest amenities. Together with your captain you decide where you want to go and what you want to do. We can recommend a tour to Meganissi, only a few minutes from Lefkada.
At the beginning of the trip, one passes the island Scorpio, previously owned by Onassis.  At later time, his daughter owned the island but did not spent all too much time there. Now the island has been sold and is closed off for the public to get close. Prior to this, you could pass relatively close to the island, which today is not possible, having guards patrolling Scorpio.
On Meganissi, visit one of the many fine beaches, or stop at the harbor and eat at one of the many qute taverns. Needless to say, but this is the place for fish, freshly caught  and grilled over hot char coal – tastes wonderful! If you have the chance, come back in the evening for a magic night and dinner.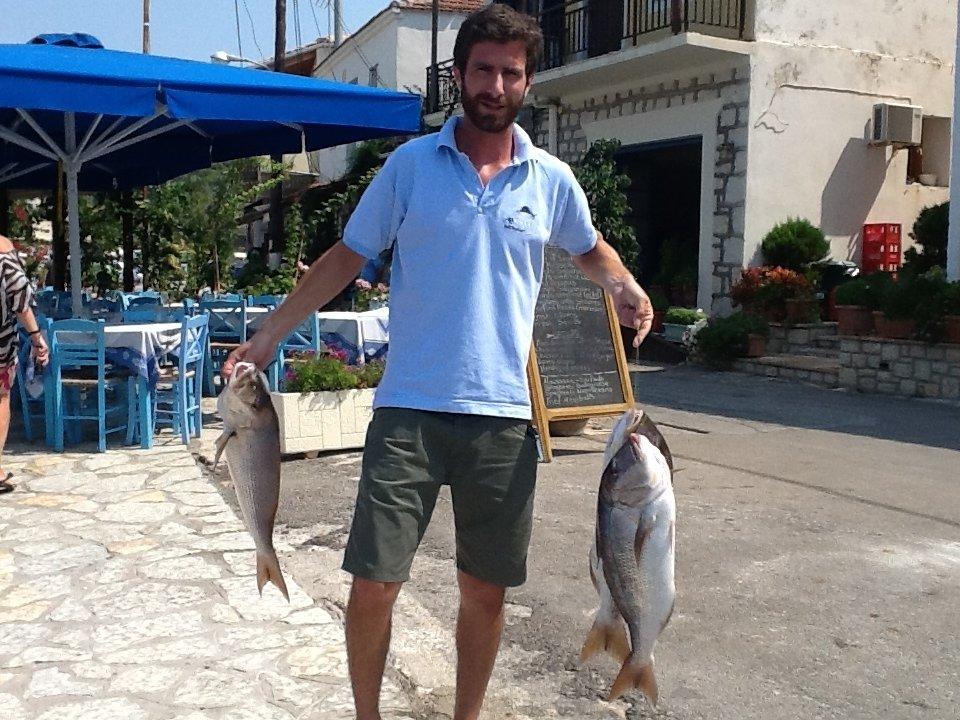 There are many fine islands to visit around Lefkada, but why not go to one of the many fine beaches that Lefkada can offer? Some are difficult to go to by road, but it can  easily be done by boat. One of my favorites is Agliofili which is located on the south side. White, round and smooth pebble stones makes this beach a piece of white heaven. The sea is lovely turquoise and crystal clear. This is a small beach and some days it can be quite crowded .NB, there are no fascilities herewhat so ever, bring food and water.
Agiofili Beach
Another great beach is Katsiki. Aappointed to one of the top 10 best beaches in the world. If you come by car here, you will get a sweaty walk to the beach. There are over 100 steps leading down a steep mountain wall to the beach. Going back up is even harder! At this beach you can rent sunbeds, umbrellas and there are restaurants and bathrooms.
But, maybe you and your captain desides to do something else, maybe go snorkeling in som fantastic caves?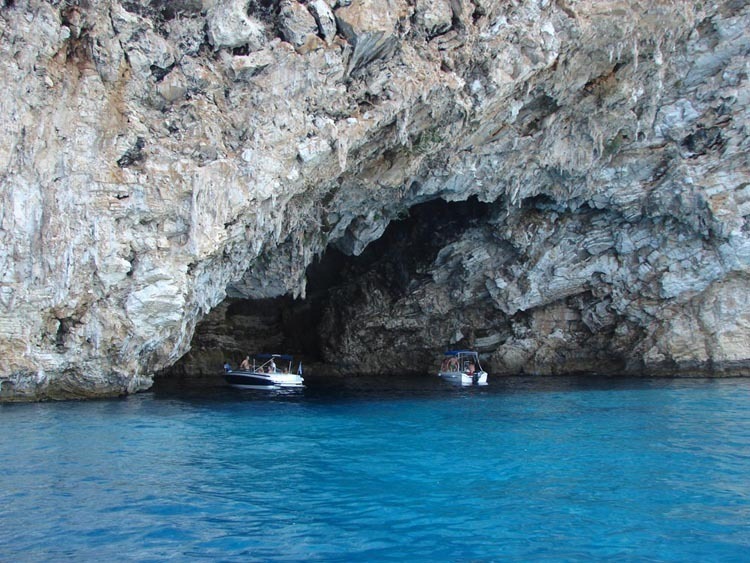 Have a look at Sport Boat Charters webpage ,Click here »